Available Now

Please see our Upcoming Litters Below
Puppies are ONLY able for visitors once they have received their 1st vaccination, are fully weaned from Mom and at at a minimum of 8 weeks of age. 
 *
Upcoming Litters
Purebred CFC Registered Coton de Tulear – Accepting Deposits for Future Litters
(12/4/2022) - Purebred Coton de Tulear puppies  Our Purebred Coton de Tulear puppies are $3300 + HST with CFC Purebred Registration under a Non-Breeding Agreement We are accepting deposits for our future Coton de Tulear litters.  We require a $500 non-refundable deposit to reserve a …
Continue reading →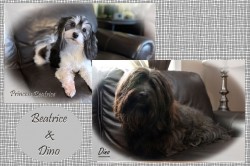 Purebred CKC Registered Havanese puppies – Accepting Deposits for Future Litters
(12/4/2022) - Dino and Beatrice welcomed their litter of Havanese on December 5, 2022.  This means if all goes well the puppies will be ready for homes Saturday February 4 – Saturday February 11, 2023. ​There is 1 Male and 4 Females in …
Continue reading →
We take pictures of our puppies once they are 7 to 8 weeks of age.
The price of our puppies is noted with each litter
A puppy is not promised without a Deposit.
We require a $500 non-refundable / non-transferable deposit to reserve a puppy.
If you leave a Deposit on a litter already born then deposits are placed on a specific litter, colour and sex.
If a deposit is placed on a future litter (not born yet) then your deposit is placed on the sex of your choice.  Colour is not known until the litter is born.  Therefore, you can on reserve the sex of your preference.  The colour of the available puppies (in the gender chosen) will be released at 2 weeks of age in the order the Deposits were received.  The deposit is then placed on the colour within that litter.
If in the next litter there is no sex of your choice then the deposit is placed on the very next litter.
**If you choose to leave a deposit to reserve a puppy keep in mind that all deposits are non-refundable and non-transferable.
Puppies are living things and deserve respect.  If you're not sure; don't leave a deposit; wait for pictures or come and see the available puppies when they are ready**
**If you'd like to leave a deposit give us a call.  Do not send money before you speak with us**
 _______________________________________________ 
All of our puppies are sold as pets. Not for Breeding and not for Showing unless otherwise agreed upon in writing prior to purchase.
If you are interested in having a puppy for Show purposes please contact us about Show puppy availability.
*
If you have any questions please contact us by email or phone.
Telephone : 905-830-2290
DO NOT text us.  We will not respond to you.
**Appointments are scheduled by phone only**
Please call between 9 am & 7 pm Monday – Friday or Saturday's 9 am – 2 pm
If you do not get an answer leave a message and we will return your call at our earliest convenience
**Visits are by Appointment ONLY (No drop in's) 
Appointments are Monday to Friday 10 am – 5 pm or Saturday 10 am – 2 pm
NO APPOINTMENTS ON SUNDAYS**
!!! 5 YEAR WRITTEN GUARANTEE !!!
All puppies have at least their 1st Vaccinations, microchip implant, and have been on a worming schedule as outlined by our Veterinarian when they leave our care.
All the puppies go to their new home with; Vaccination Records, Purebred Registration, a Bed and Toy as well as our 5 Year Health Guarantee.  They are all Micro-chipped and come with a 30 day Free Pet Insurance Policy
(Owner of New Puppy may choose to Activate).
We are always here for questions after you take your puppy home regardless if it's been 5 days or 5 years
We are located a short 45 minute drive North of Toronto in Innisfil, Ontario.
Payment Options are Available – Visa, MasterCard, Debit and Cash.  Delivery may be available at an added cost
Please Read This Before Purchasing a Puppy