Ready For Homes Now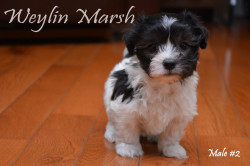 CKC Registered Purebred HAVANESE puppies for sale
(12/4/2018) - Our Canadian Kennel Club ( CKC ) Registered Havanese puppies were born on October 10, 2018 and will be ready for visitors and homes starting December 5th. There are 2 Males and 1 Female in this litter ONLY 1 Male …
Continue reading →
CKC Registered Purebred HAVANESE puppies for sale
(11/25/2018) - Our Canadian Kennel Club ( CKC ) Registered Havanese puppies were born on October 5, 2018 and will be ready for visitors and homes starting November 30th. There are 2 Males and 1 Female in this litter ONLY 1 Male …
Continue reading →
*
Upcoming Litters
The dates listed are the weeks that the litters will be ready for viewings & homes provided they are fully weaned and Vet checked
This is when the puppies will be 8 weeks old, had their 1st vaccination, dewormings, and microchip implant as well.  It's important that the puppies are ready to leave before they are exposed to the stresses of the outside world.  I'm sure most everyone would agree for obvious reasons.
We take pictures once puppies reach 7 1/2 – 8 weeks of age. If you would like to be added to our Notification List for a litter kindly click on the link below the corresponding litter and send us an email
**If you choose to leave a deposit to reserve a puppy keep in mind that all deposits are non-refundable and non-transferable. Puppies are living things and deserve respect.  If you're not sure then wait for pictures or come and see the puppies when they are ready**
 _______________________________________________  
Ready for Visitors and Homes the week of December 17, 2018
Please note that these puppies will be ready for homes December 22nd however due to Christmas if puppy is not picked up December 22nd then puppy will not be able to leave until December 27th once the hustle and busle of Christmas is over.
This is for the safety and well-being of the puppy's adjustment into their new home
CKC Registered Bichon Frise puppies
Our Litter of Canadian Kennel Club ( CKC ) BICHON FRISE puppies was born on October 27, 2018 and will be 8 weeks old December 22, 2018
There is 1 Male and 4 Females puppies in this litter
ONLY 2 Females Left

1 White Male

- SOLD

4 White Females

- 2 are SOLD
Sire: CH Francois Royal Flush of Marlen (Frankie)
Dam: WeylinMarsh's Miss Jenny Grace (Jenny)
Our Purebred BICHON FRISE puppies will weigh between 11 lbs and 16 lbs as adults
Our BICHON FRISE puppies are $1900 + HST with CKC Registration under a Non-Breeding Agreement
We will be taking pictures at 7 1/2 – 8 weeks of age.  Pictures will be sent to everyone on our Notification List prior to posting them to our site.  Pictures will be posted to the site of the available puppies on Tuesday December 18, 2018. 
Puppies will not be able to leave or have visitors until Saturday December 22, 2018 once they are 8 weeks old.  If you'd like to be added to our Notification List for a sneak peak of the puppies once we take pictures email us and ask to be added to our List.
_______________________________________________      
All of our puppies are sold as pets. Not for Breeding and not for Showing.
If you are interested in having a puppy to Show purposed please contact us about Show puppy availability.
*
Make sure that you are on our Notification List.
*
If you have any questions please contact us by email or phone.
Telephone : 905-830-2290
DO NOT text us.  We will not respond to you.
**Appointments are scheduled by phone only**
Please call between 9 am & 9 pm Monday – Friday or Saturday's 9 am – 2 pm
If you do not get an answer leave a message and we will return your call at our earliest convenience
**By Appointment ONLY (No drop in's) 
Monday – Friday 10 am – 5 pm or Saturday 10 am – 2 pm
NO APPOINTMENTS ON SUNDAYS**
!!! 5 YEAR WRITTEN GUARANTEE !!!
!!! All Puppies come Micro Chipped and with FREE Pet Insurance !!!
All puppies will have had at least their 1st Vaccinations and are on a worming schedule as outlined by our Veterinarian. They go to their new home with; Veterinary Records, CFC or CKC Registration, Food for a couple of days, a Bed and a Toy as well as our 5 Year Health Guarantee, Microchip Information and Free Pet Insurance (Owner of New Puppy may choose to Activate).
"We are located a short 45 minute drive North of Toronto in Innisfil, Ontario.
Payment Options are Available – Visa, MasterCard, Debit and Cash.  Delivery may be available at an added cost
Our puppies leave us with:
Bed

Toy

Food

Veterinary Records

Micrcoship Implant

30 day FREE Pet Insurance Coverage (Gift Policy must be activated by Customer)

Purebred Registration

Lifetime of Support
Please Read This Before Purchasing a Puppy
If you are interested in Purchasing a Morkie puppy our good friend Jamie at www.TeenyPup.com has Morkie puppies for sale.