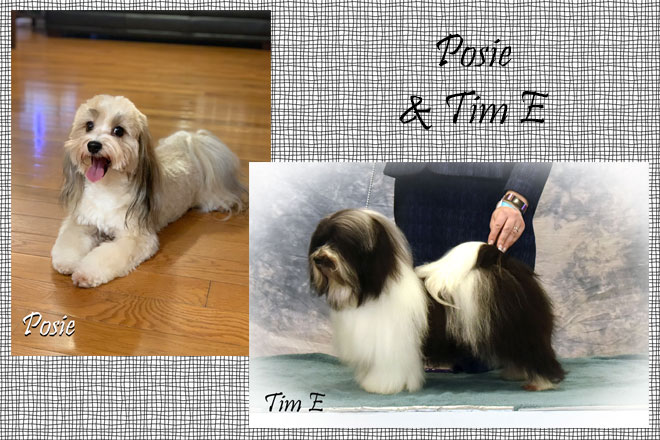 Posie and Tim E are welcomed their 1st litter together of CKC Registered Havanese puppies February 23, 2022.  This means if all goes well the puppies will be ready for homes starting April 20, 2022.
There are 2 Males in this litter
All Reserved
1 Black & White Male –

Reserved

1 Black Male with a tiny bit of white -

 Reserved
Sire: GCH YAYA'S IT'S TIME FOR WEYLINMARSH (Tim E)
Dam: GCH WEYLINMARSHS RING FOR MARIPOSA (Posie)

Pictures are taken at 7 – 8 weeks of age and sent out first to those families that choose to reserve one of the puppies with a deposit.
If you'd like to be added to our Notification List for this Litter or a future litter please send us an email 
Deposits are placed on this specific litter, colour and sex of your choice.  Therefore deposits are non-refundable & non-transferable. A puppy is not promised unless a Deposit has been accepted.  

This litter of Havanese puppies will weigh between 9 and 14 lbs at maturity.
If you have any questions or if you would like to schedule an virtual appointment, please give us a call at 905-830-2290. To view our other puppies please see our puppies for sale page.
_______________________________________________
The Havanese is a breed of dog indigenous to Cuba. They are very happy, good tempered and friendly dog. They love people and get along with other dogs and pets.
The Havanese is a Toy breed. The Havanese is considered mid to low energy and the love a good walk a few times per week or a short game of fetch.
The Havanese is even tempered and very social and quite hardy for a small breed dog. They can range between 9 and 14 lbs depending on size of the parents.
The Havanese is non-shedding and considered hypoallergenic in dog breeding.  Allergy sufferers should find that they can tolerate them better than a shedding dog but it's important to make sure you're not allergic before bringing any dog breed home.
They do require brushing to ensure there are no tangles or mats in their hair.  The longer their hair the more brushing they will need. They will also need haircuts every 6 to 8 weeks depending on how you want them to loo. 
The Havanese is a congenial and happy breed that will fit well into almost any living situation